Create true-to-life virtual designs.
Varjo immerses you in the most natural mixed and virtual reality environments ever experienced.
Design teams around the world can come together in a photorealistic virtual space to showcase new concepts with true-to-life accuracy – discussing and iterating in real time. It's a new era of unlimited creative potential that accelerates human imagination like never before.
Crystal-clear vision for design in VR, AR and XR
When it comes to decision making, details really matter. Observing the full design feels completely natural with Varjo headsets.
XR-3, VR-3, and Aero are the best headsets available for design professionals, allowing them to create perfect 3D visualizations in stunning detail with a massive 115-degree field of view. Cars and other large objects fit perfectly in the frame while textures, reflections, colors and text are rendered with absolute clarity. And with the widest color gamut, color accuracy is now 1:1 with the real world.
Enjoy XR-3 and VR-3's industry-leading Bionic Display with human eye resolution (over 70 PPD) and the edge-to-edge clarity of Aero at 35 PPD, while the advanced ergonomics and active cooling ensure you can stay immersed for hours on end.
Revolutionary benefits for your business
Bring your creations to life – visualize, iterate and modify 3D designs quickly with the highest visual fidelity on the market
Reduce dependency on physical models and in-person design reviews with photorealistic virtual prototyping, saving hundreds of thousands of dollars in costs
Conduct global design reviews remotely in hours, reducing weeks from travel time
Increase productivity with lighter, comfortable devices that can be used in multi-hour sessions
Build more immersive experiences with a completely natural blending of real and virtual objects
Drag to compare
See the difference – these images were shot directly through a competitor's VR device (on the left) and the Varjo VR-3 (on the right).
VARJO VR-3
Perfect blending of real and virtual elements.
Varjo's video pass-through mixed reality device XR-3 allows you to blend photorealistic virtual and real elements, which is completely unlike the translucent and ghostlike visuals of optical see-through solutions.
Varjo XR-3 also comes with depth awareness, enabling building pixel-perfect hand, object and people occlusions. This combination allows a totally new level of realism to replicate the most realistic lighting, reflections and shadows ever experienced. All in real time.
The most natural and intuitive interactions
The integrated Ultraleap hand tracking in Varjo XR-3 and VR-3 allows completely natural interactions with both real and virtual elements, for example pressing buttons, opening doors and using gestures to control the environment.
In mixed reality, you can use real hands to fully interact with any virtual or real object – making the experience as authentic and immersive as possible.
Design in VR, AR or XR becomes second nature.
Enjoy comfortable multi-hour sessions, thanks to our lightweight design and advanced ergonomics with a 3-point precision fit head band. Varjo headsets also come with ultra-wide, custom-made aspheric lenses, active cooling and automatically corrected inter-pupillary distance (IPD) to reduce eye strain and simulator sickness. Every image is smooth and instantly brought into focus for a natural work environment that becomes second nature for the team.
With the advanced depth awareness in Varjo XR-3, powered by LiDAR and stereo RGB cameras, you can create 3D room reconstructions and blend together real and virtual contents seamlessly.
Unmatched features for creative professionals
Industry-leading visual fidelity enables seeing even the smallest details.
Wide, 115-degree field of view allows natural immersion and seeing large objects in the full frame.
Colors that mirror the reality – the widest ever color gamut matches 99% with the sRGB and 93% with DCI-P3 color space.
Photorealistic video pass-through in Varjo XR-3 – see augmented content as indistinguishable from reality.
Blend real and virtual elements seamlessly with pixel-perfect depth awareness in Varjo XR-3.
Industry leaders and pioneers choose Varjo for VR/AR/XR design and engineering
"Varjo's new full frame Bionic Display, with its wide and natural field of view and its mind opening human-eye resolution, is the perfect key for our extensive design work in XR."
– Gregory Guillaume, Vice President of Design at Kia Motors Europe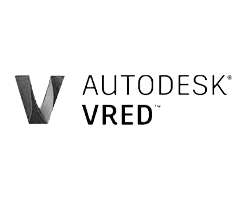 "Varjo VR-3 and XR-3 headsets used together with Autodesk VRED are revolutionizing how design and creative work is being done by unlocking unlimited creative potential for virtual prototyping."
– Lukas Fäth, Senior Product Manager at Autodesk
"Varjo Aero is an outstanding VR headset with exceptional visual quality and true colors. It works out of the box with KeyVR, providing a crystal-clear VR experience for designers and virtual collaborators."
– Jan Simon, KeyVR Lead at Luxion
Varjo Reality Cloud Now Available for Autodesk VRED
The new Varjo Reality Cloud platform allows professionals to stream VR/XR applications from the cloud with a lossless visual fidelity.
Varjo Reality Cloud with cloud streaming support for Autodesk VRED is now available for up to five concurrent users per company at $1495 per month.
Compatibility with the world's most popular 3D software
Accelerate your design work in VR and AR with Varjo by using the tools you already know
Varjo's mixed and virtual reality headsets are fully compatible with a rapidly expanding collection of the most widely used 3D platforms and software, including Unity, Unreal Engine, Autodesk VRED, and OpenXR 1.0 standard.
Transform how you create, in any reality
Varjo XR-3
Varjo XR-3 supports the highest resolution across the widest field of view of any mixed reality headset. And our video pass-through depth awareness is another industry-first – perfectly blending real and virtual elements with true-to-life accuracy.
A new industry benchmark for virtual reality
Varjo VR-3
Varjo VR-3 sets a new standard for immersive computing with our Bionic Display – the industry's highest resolution across the widest field of view for true-to-life visualizations.
Designed for professional VR. Now available for all.
Varjo Aero
Varjo Aero is the newest virtual reality headset in our portfolio of professional-grade VR/XR headsets. It is the first Varjo device available to all demanding VR users – organizations and individuals alike.
Read our latest blog posts & insights on using VR/XR for design